Work Injury Doctor in Milwaukee Specializes In Shoulder Injuries
Shoulder Work Injuries: You Don't Have to Be a Linebacker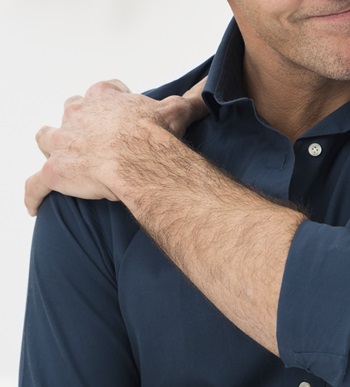 Millions of people come to the doctor with shoulder injuries. The nation is full of shoulder strains, sprains, and pains. More than half of doctor visits for shoulder problems are the result of rotator cuff tear injuries. Not all people suffering from this injury are professional or college athletes. The majority are people just like you.
You need help to get back in the game. Except we're talking about the employment game.
Shoulder Injury Symptoms to Look for
Pain is always the first symptom – one which should never be neglected. When experiencing shoulder pain, you should make an appointment to see the Wisconsin Work Injury Doctor, Theodore Gertel, who is also president of Milwaukee Orthopaedic Group, Ltd.
Another problem you might experience is not being able to move your arm into normal positions. Perhaps your shoulder is continually stiff or painful. Some people say the shoulder feels like it could pop out of the joint at any time. Your shoulder may be weak, hindering you from performing routine, on-the-job work. A good choice would be to contact Dr. Ted Gertel, the Wisconsin Work Injury Doctor, to evaluate and treat your injury.
Causes of Shoulder Injuries
A prompt, confidential examination will identify the problems facing you. Most shoulder problems involve soft tissues such as tendons, muscles, and ligaments. Rather than being caused by hard, strenuous work, your shoulder work injury may have been caused by a long stretch of repetitive work, requiring you to go through the same motions again and again. These repetitive motion injuries might not be as dramatic as sudden work accidents, but they can be just as painful and deserve to be treated all the same.
More shoulder injury cases include:
Don't Wait for Your Shoulder Work Injury to Get Worse
The worst thing you can do is ignore your injury. For the most part, work-related shoulder injuries won't go away by themselves. Don't try to get used to the weakness or pain. Take active steps to overcome joint pain causes with the help of a trained orthopaedic physician like Dr. Ted Gertel. Waiting too long could cause even more serious problems to occur.
Potential surgical procedures include:
Call Our Milwaukee Orthopaedic Surgeon Right Away for a Complete Exam
The experienced Milwaukee orthopaedic surgeon, Dr. Gertel, will check your shoulder for instability, impingement (tendons setting pinched between the bones) or rotator cuff damage. You may not need surgery to fully recover. In fact, early detection may entirely eliminate the need for surgery. Take action as soon as possible. Dr. Gertel will lay out all your options. View Wisconsin work injury directions to see our shoulder injury doctor.
The key is to remember YOU are in charge. Wisconsin law empowers you to select the doctor you prefer and the treatment you desire. Dr. Gertel is preferred by many Wisconsin professional athletes and injured workers because of his thorough procedures, effective treatments, and friendly, compassionate approach.
Let us help you recover from your shoulder work injury as completely and quickly as possible.
For a prompt and complete examination, contact shoulder injury specialist, Dr. Ted Gertel.